I first got into scale model railroading my last year of Junior High, when I was 14 (or thereabouts).
I lived in Cheyenne, Wyoming, and got involved though the help of two friends. Over the next few years I spent most of my off-school time in the basement, starting and then not completing a whole string of badly-thought-out layouts. They generally were designed to fill the room, which was around 15 by 20 feet.
Being on a very strict budget (less than $5 a week), these big layouts were just not going to happen.
Finally I tore the last of them down and started on a simple 4X8. It had a very small oval in the center of the sheet of wood, designed so that I could at least run a train around in a circle. The first photo is an early shot of that layout, maybe about nine months into construction.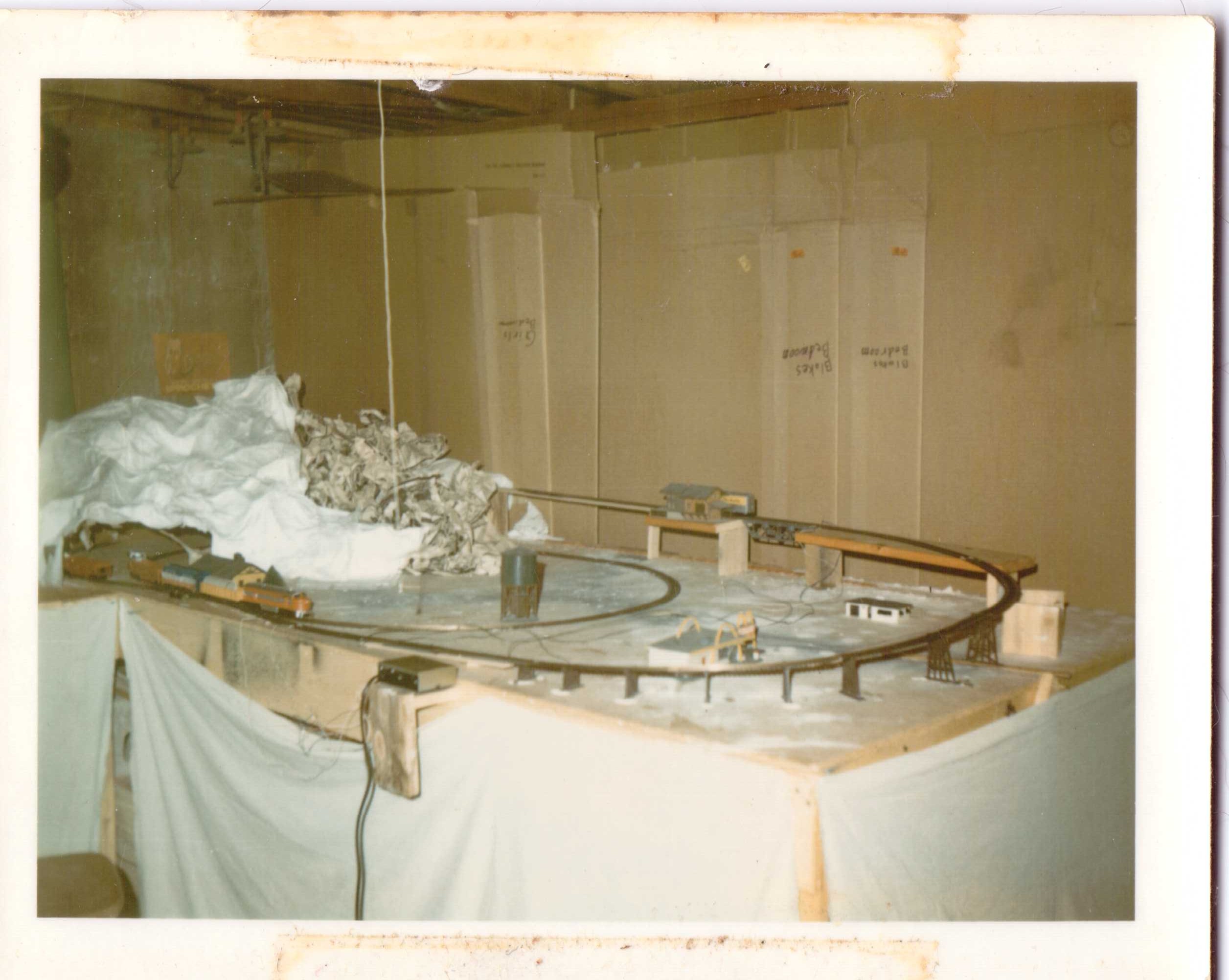 Sorry about the quality - this is a very old Polaroid.
What with my budget, construction was slow. Even at 75 cents for a 3' piece of Atlas nickel-silver flex track (yes, it used to be that cheap) I could add track only at a very slow pace. Still, I did make progress.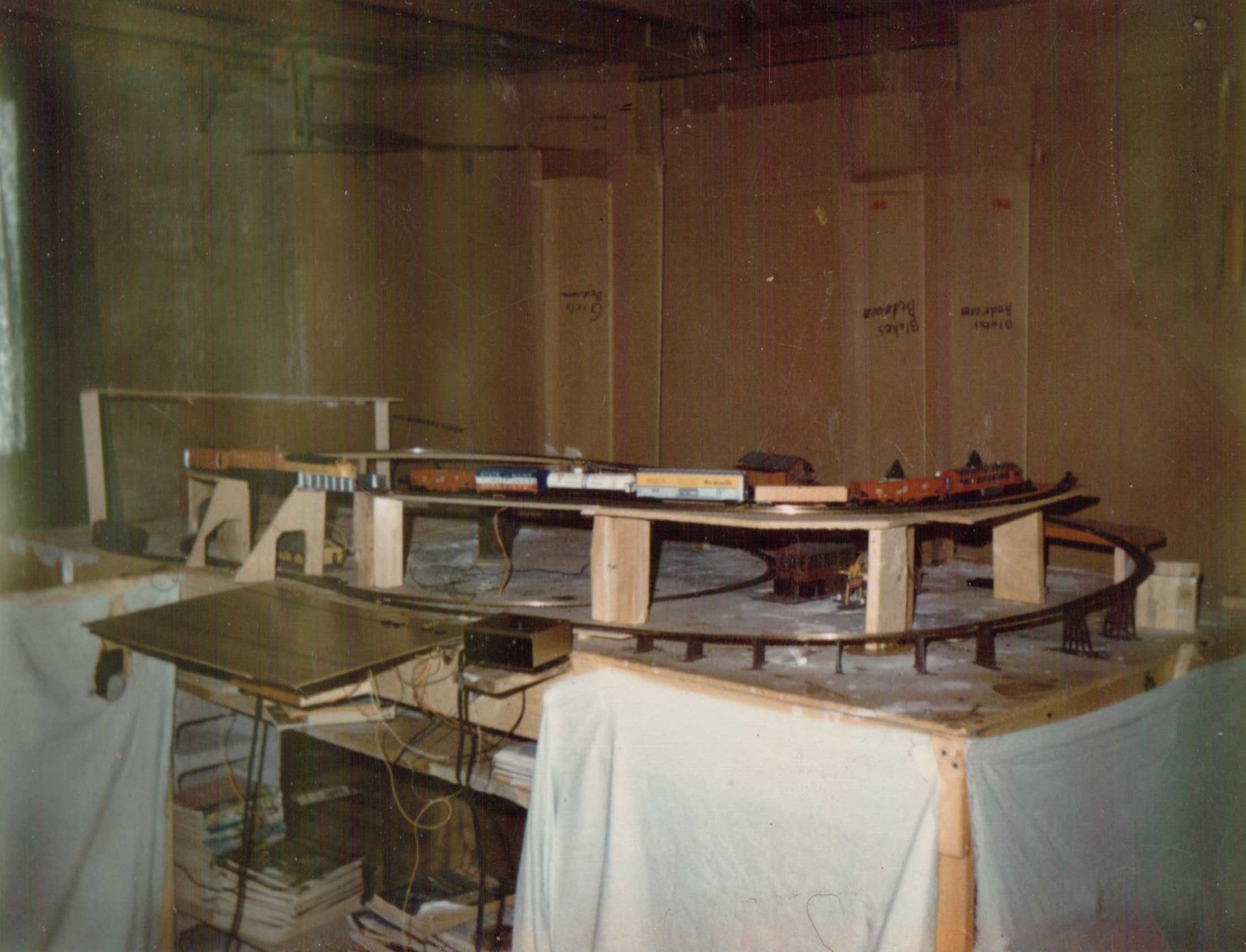 To the right is what the layout looked like the beginning of my senior year.
Interestingly, this is the ONLY layout where I've ever managed to almost finish some scenery! Since then, I've gotten a couple to the early scenery phase, as you'll see in The Middle Past and The Recent Past, but this is the only one to which I've ever managed to add ground cover and foliage (sparse as that might be). The process was called "Zip Texturing."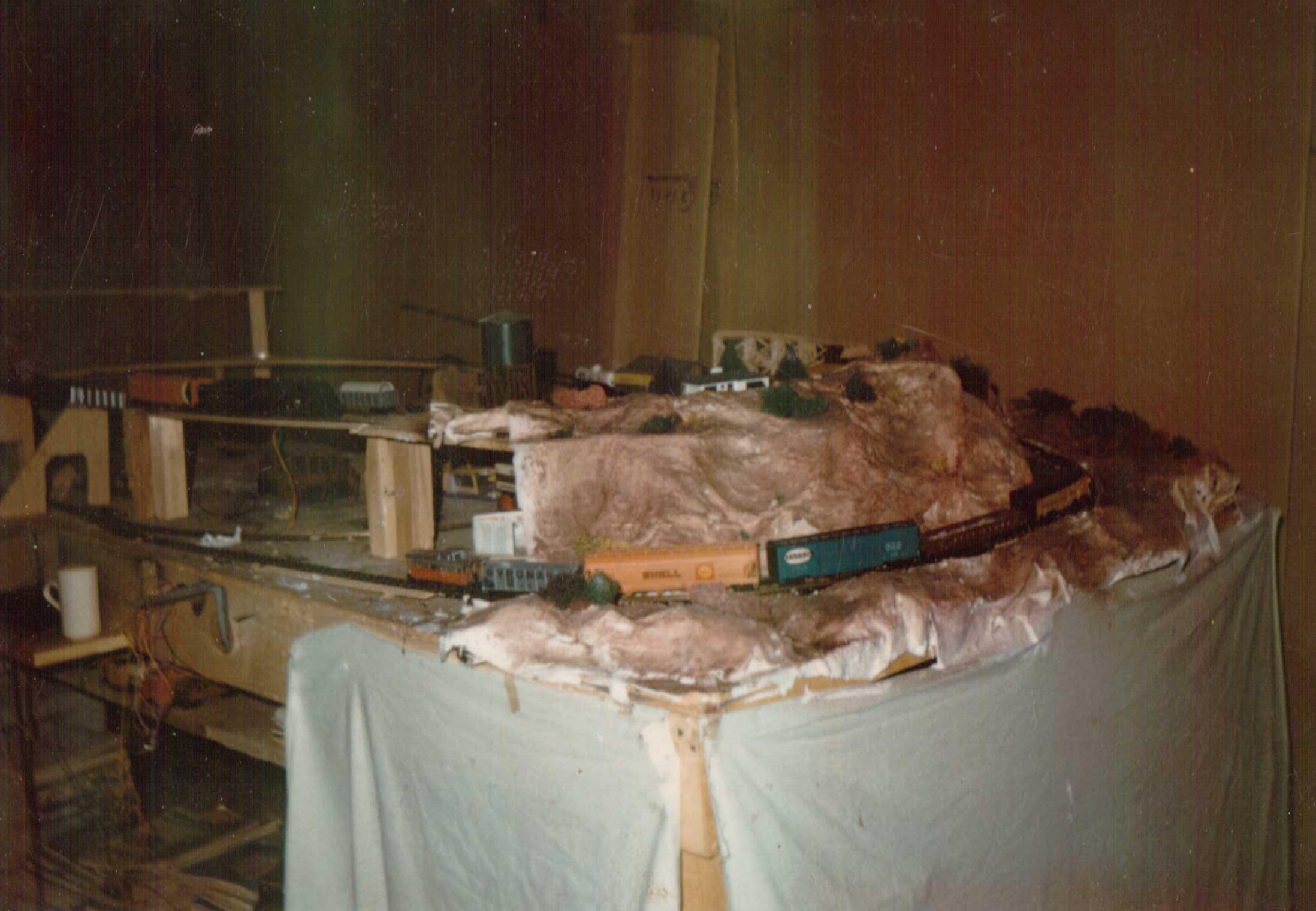 I shudder to think what the grades were on that track! But this layout I worked on for a couple of years, finally reaching a bit beyond the point seen in the this photo just before I graduated high school and had to disassemble it.
After that layout was disassembled, the family moved to Helena Montana where I started college.
My first 18 months there, I started one layout that was ultimately destroyed by a flooded basement. I started laying my own track and building my own turnouts. I have a home movie or two (Super 8) of that one. Maybe I'll get them converted to digital and post one, just for laughs.
After the flood, I started over dabbling in HOn3. I began building a small layout, again handlaying track and a diamond crossing. I began building LaBelle cars, and had a D&RGW brass C-16 on order (by far the biggest purchase I'd made to that point. It was several hundred dollars). The C-16 never arrived, as the order was in a mailbag that was stolen! About nine months later the hobby shop owner got the letter with the order in it back, having never been delivered. The letter was somewhat the worse for wear.
Six months or so into the HOn3 layout I decided that I needed to focus on college, so I tore down the layout, sold nearly all my equipment except an AHM Big Boy (cost at that time $79) and one or two pieces of rolling stock I'd scratchbuilt, and put my model railroading days behind me for good. Yeah, right.
---
A few months after college and into the working world (now in Philadelphia, Pennsylvania), I once again decided to give model railroading a go.
I designed a layout patterned loosely (very loosely!) on the D&RGW narrow gauge in Colorado. That didn't last long as I moved to Orlando, Florida within just a few months. Another layout in the scrap bin!
Once in Florida I abandoned narrow gauge and focused once again on standard gauge modeling. During the three-plus years I lived in Florida I started and stopped several different layouts, even giving N Scale a try for a brief period. I could never those tiny things to track reliably, though, so it was back to HO.
Then in 1984 I transferred to Vandenberg Air Force Base in California for an extended temporary assignment. That's where my model railroading began to really take shape.
To continue, click the blue bar below.