Casper Construction Progress Part 3 – 2023 – July through September
On September 3rd I uploaded my latest layout update video to YouTube:

I spent more time than I did on a project I wasn't planning to do yet - installing supports for the backdrop behind Thermopolis. I've had the 1X2 lumber for a few months, and just decided to install it on the spur of the moment. Took several days. In this shot you can see the track buss wires in the joists between Thermopolis and Wind River Canyon. Of course the green on was right in the way of where the backdrop posts needed to attach to the joists. I didn't plan that out real well, but it only took about 20 minutes to relocate that wire and clear the space.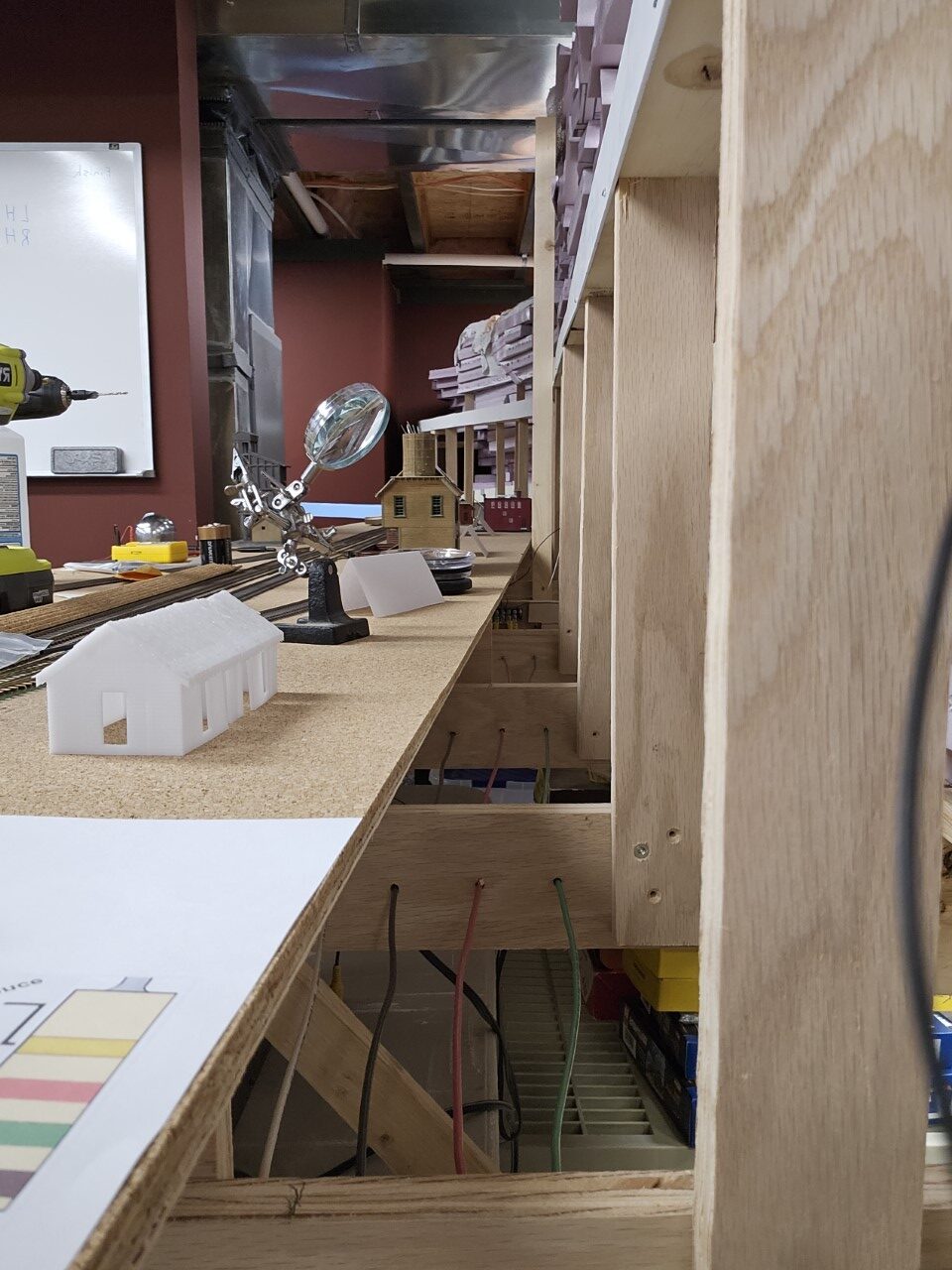 I've also been adding more freight cars to the layout. These cars I obtained from different sources already built, so preparing them for the layout only requires adding strung trucks and sometimes Kadee couplers,  ensuring everything works properly and weathering the cars. Here's three of the ones I've done recently.
This one is an express boxcar that will go on a passenger train. It's an Athearn RTR car I got from a friend.

Here's one of the oldest (in prototype years) cars on the layout - A truss-rod boxcar. This is a LaBelle kit built and custom lettered by the same guy I got the express boxcar from. Too old for interchange service by my era, this car will be limited to running along the Cowboy Line between Casper and Lander.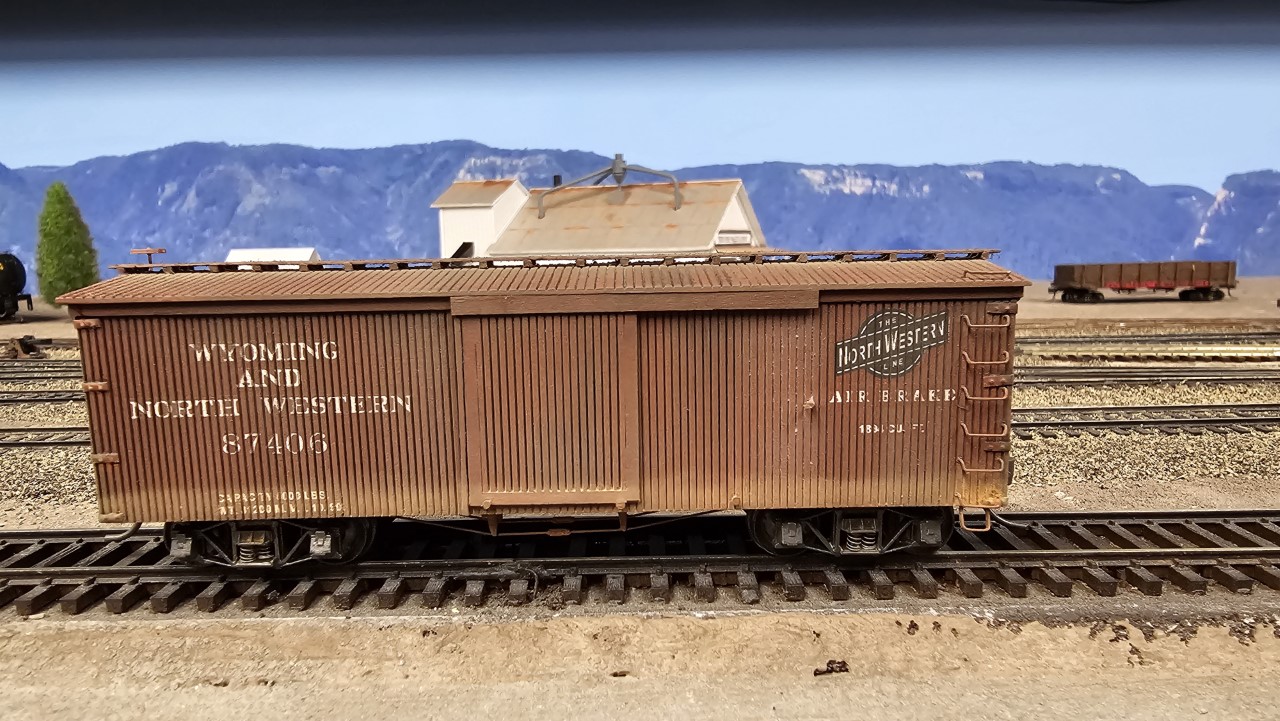 On the 7th I drove over to Riverton, Wyoming to explore what remnants I could find of the railroad there. I was particularly interested in anything I might find on the old tie-producing plant that used to be in town.
I stopped by the Riverton town museum, and was delighted to find that they have quite a few photos of the old tie plant. The place was called Wyoming Tie & Timber. Here's just a couple of pictures I took of old photos they have on file.
Stacks of ties: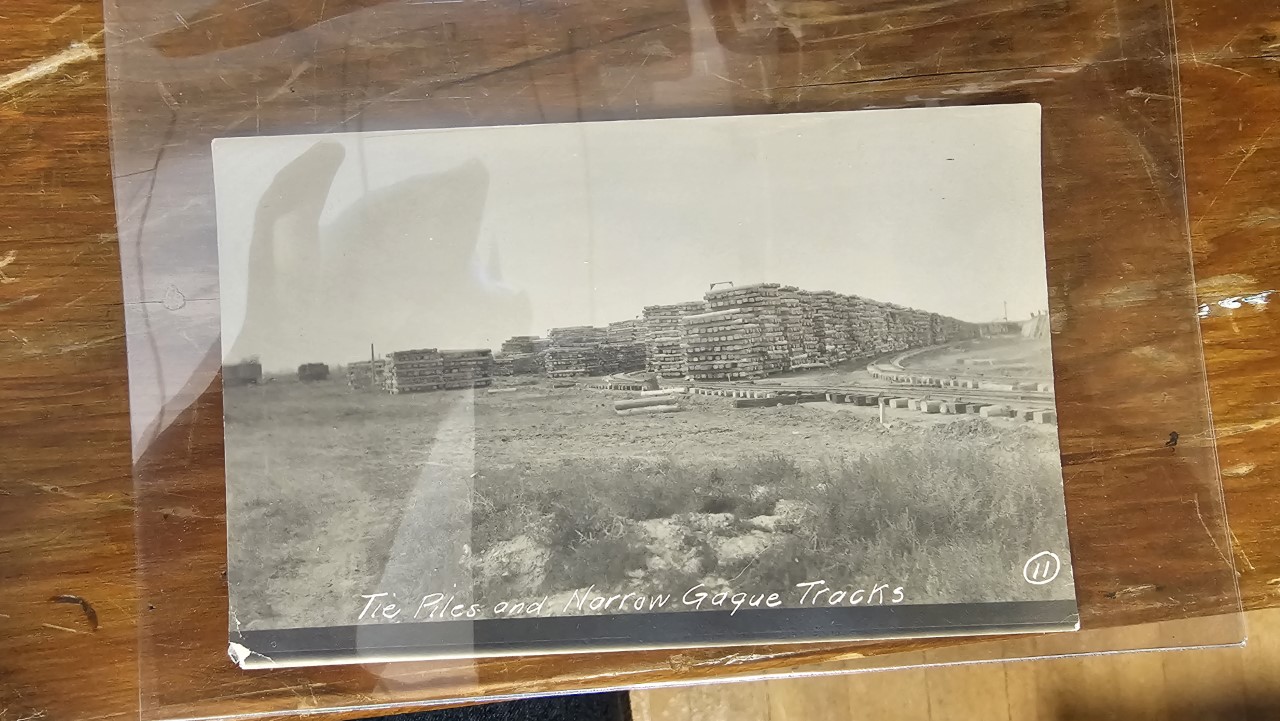 After my last post I continued working on the track to west staging. Because of it's location under Casper, it would be very difficult to build this track in place, so I built it in the open and mounted it later. Here's the final section of subroadbed that leads to the staging yard itself, ready for track. It's the 10th of September

Next step was to adjust the grade and get the final elevation of the track. You can see here how I supported the new section.
I thought this was going to be a real bear to work on, but I was very pleased to discover that there's quite a bit of space under Casper to work. I was able to sit on a step stool and not hunch over uncomfortably. Because of that, it only took a couple hours to level the track and establish the grade.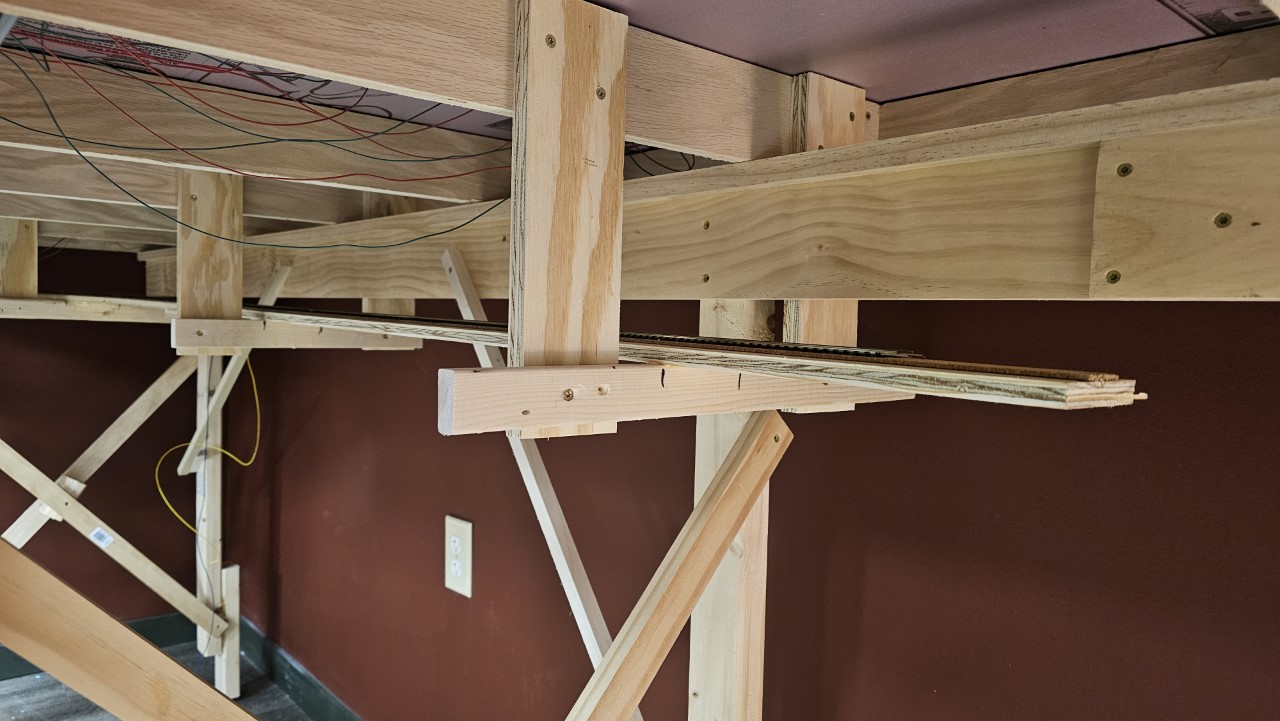 I'll build the staging yard itself, which will begin just behind the caboose in the prior photo, in the same way I did the approach track. It will consist of probably six tracks. The yard turnouts will be remotely thrown using Tortoise switch machines, and all tracks will have occupancy detection using MicroMark's no-longer-available IRDOTs, infrared detectors I bought years ago and used on my first Merchantcville NJ layout.
Everything will be built and thoroughly tested before the yard, which will be built in several eight-foot sections (long staging tracks), is moved into final position. That probably won't be done until sometime in the first half of next year (or later!).
While I was working in that general area I also installed the first section barbed wire fencing along the backdrop. This first sections starts where it intersects the not-yet-installed chain link fence around standard oil, and will extend behind Powder River almost to Shobon. The gap between the benchwork and backdrop on the left will be covered up mostly by refinery equipment, piping and storage tanks.