This is the end of the line on the short Cody branch. Nowadays, Cody's primary industry, other than its always rather large tourist trade, is a US Gypsum plant. From the 1940s and through the late 60s, it was the Husky Oil refinery.
The track arrangement for Cody: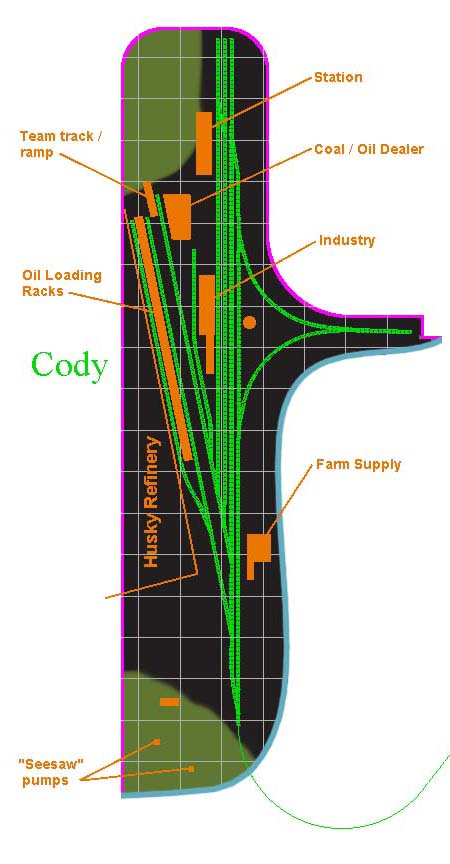 This diagram is more detailed than most of the rest, as I'm sure you've noticed, but as time progresses and more in-depth planning is done following research, other diagrams will become more detailed as well. Even this one will be further fleshed out as time goes on.
East is to the bottom here, with the line to Powell going off that direction. Note that, from this orientation, the actual town of Cody itself is to the left in the diagram. I wanted to include at least some of Cody on the layout, but my basement is finite, after all, and other things took higher priority.
When I was nine years old we lived on a hill at the far side of town, above Beck's lake (now cut in half by a highway - couldn't they have gone around?). From there, looking north (opposite the direction to Beck's Lake), I remember seeing the Husky refinery all lit up with what seemed like a million lights at night. I can even remember the Husky Oil sign.
With those kinds of memories, obviously the refinery will be rather detailed, and takes up quite a bit of real estate on the layout. Cody primary shipments will obviously be petroleum products, loaded from the racks shown above. The two tracks straddling the racks will hold 12 to 13 tank cars each. That will make for some decently long tank trains, and provide substantial traffic to both Frannie and the Frannie Cutoff, and to Casper and points east.
Cody had additional industries, of course, and further research will provide details on their contributions to rail traffic. There also is incoming traffic, certainly, with the Team Track and coal dealerships (another industry located in almost every town on the line). Passenger traffic also will be relatively brisk, due to the resort nature of Cody and the Yellowstone Park visitors.